The tech-heavy Nasdaq 100 index rose sharply Thursday, jumping above the important short-term bearish trendline.
Therefore, it looks like the immediate bearish threat is no more, and another leg higher seems likely at this point.
At the time of writing, the index was flat Friday, trading at around 15,100 USD and waiting for the US data & cash session to start. 

The next resistance is expected near 15,150 USD, where previous highs are converged with the 50-day moving average. However, should the index jump beyond this level and close there on a daily basis, the medium-term uptrend could be resumed. In that case, bulls will try to attack the current all-time highs as soon as possible.

Alternatively, the short-term support seems to be at the broken trendline (currently near 15,040 USD), and as long as the index trades above it, the short-term trend appears bullish. 

The swing support could be in the 14,750 USD area, and if not held, the Nasdaq might revisit the current cycle lows near 14,400 USD.

Sentiment remains positive, with the dip-buying strategy still active and thriving. Therefore, the long-term bull market could be resumed pretty quickly, considering the central banks continue to print massive amounts of money into the financial system every week.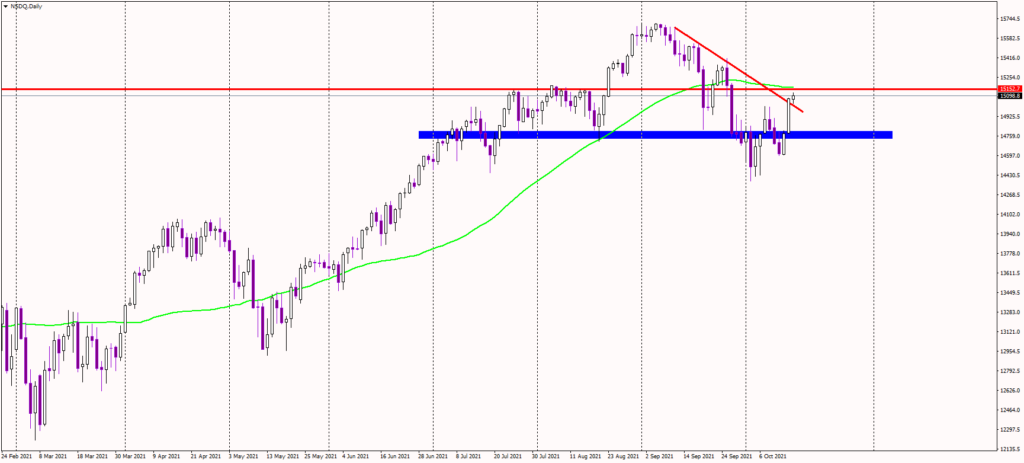 Source: https://axiory.com//Technical-Analysis/Nasdaq-settles-above-short-term-downtrend-line