Yesterday, we had a bullish day in stocks supported by the Fed Chairman Jerome Powell and the statement from the FOMC. Buyers received everything they wanted and that helped many companies climb to their all-time highs. Some of you may not be comfortable with buying shares at an all time high (ATH), and I understand this. That's why today I'm looking for a stock that's on the other side of that spectrum, on the mid-term lows.
To be clear, in order to find a good candidate to sell nowadays, you have to put some work in. The vast majority of stocks are climbing higher no matter what. But I managed to find a sweet deal for ellers and that stock is Activision Blizzard (ATVI).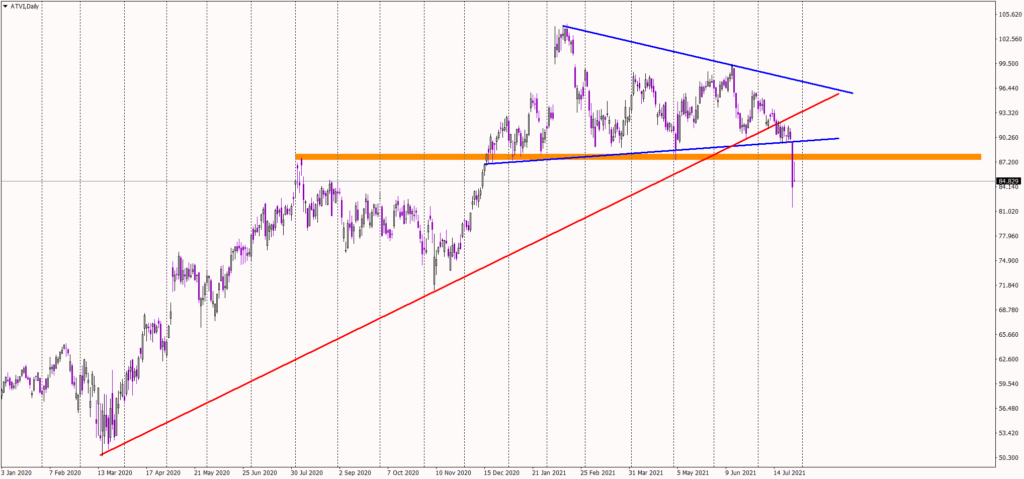 On the market, where almost all shares are climbing higher, something really bad had to happen here for the price to go down. And it did. The decline in ATVI is caused mainly by a workplace discrimination lawsuit from the state of California. The lawsuit was announced on Friday but the outrage continues.
As always, we won't dig too deep into the fundamentals here and instead focus on the technical side of the analysis which, to be honest with you, is pretty simple. The price broke three major supports. The first one was the long-term up trendline (red), the second one was the lower line of the triangle (blue) and the third one was the horizontal support on 88 USD (orange). All that is negative and as long as the price stays below, the sentiment is negative and the sell signal is ON – just like that.