It seems that the correction on global exchanges has accelerated. The situation on some indices is starting to look pretty negative. One of the instruments with the fresh sell signal is the e-commerce giant eBay. This will be the first time that we are analysing this instrument.
The main thing that is happening here is that the price escaped from the channel up formation (green). The breakout of its lower line, which happened yesterday is definitely not a good sign. Another thing is the massive triple top formation (yellow) which emerged recently. The neckline (blue) of this formation is still intact but we are at least a good way into testing it. As long as we stay above that blue line, buyers can still have hope.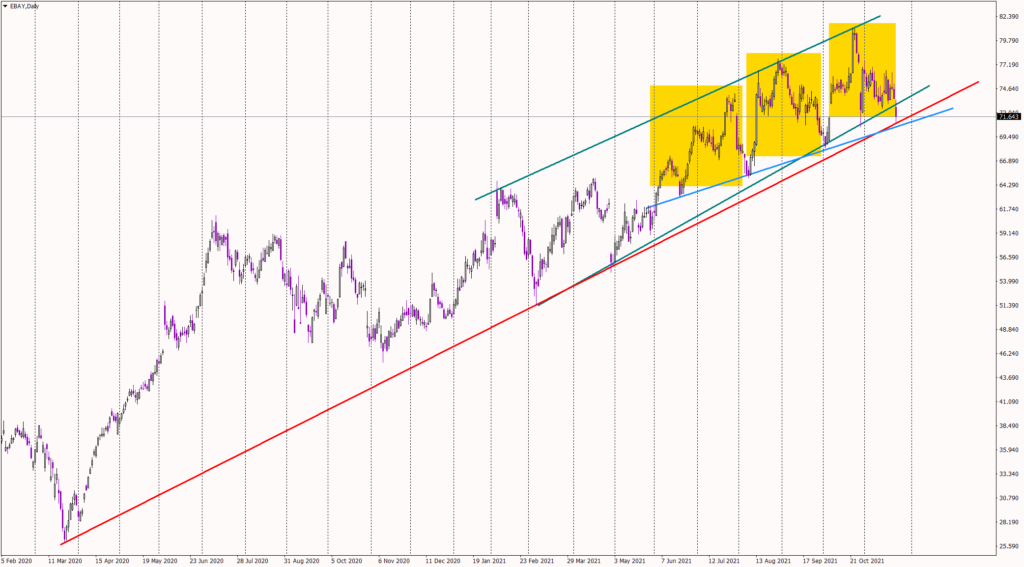 Hope comes also from one factor: the red line. We are still above it, which is promising. Why? Because this red line is the long-term up trendline and is apparently the last stronghold for buyers. Once it's broken, we'll get a major, long-term sell signal.
So what's happening? So far not much, we're still above supports, so it's kind of good. The only breakout of the red and blue line will be a trigger to go short. For now, we wait. This breakout seems pretty close.