In today's analysis, we're coming back to check up on Ferrari. We wrote about Ferrari on July  9th when the price was inside of the symmetric triangle pattern, waiting for a breakout. At the time, we said:
"To sum up, we do have a triangle pattern here and we're still waiting for a breakout. The price going above the upper line of the triangle will give us a signal to buy; and the price closing a day below the lower line of this formation will give us a signal to sell. At this point it is pretty pointless to try to guess which direction the price will go. Price action traders are patiently waiting for a price that will show them the direction. So, for now, we wait."
Patience is a virtue for every successful trader. As you may expect,  we're mentioning Ferrari again because the breakout did eventually happen. And, as you may also expect, the breakout was to the upside (because all major indices are climbing higher).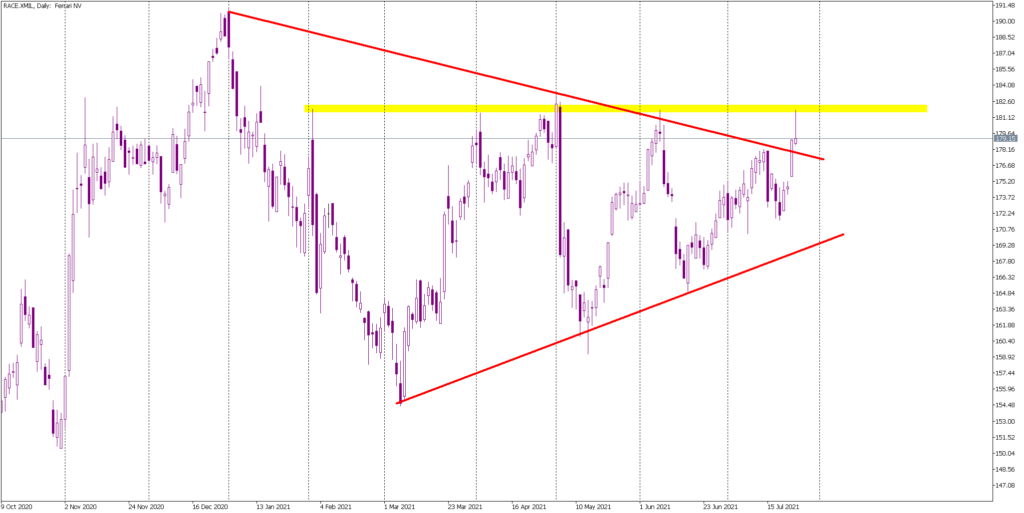 What's the scenario now? Well, the sentiment is positive as we are above the upper line of the triangle. As it often happens, after the breakout, price at some point has to meet a horizontal resistance. In this case, it is a 182 level, which we already managed to test in the morning.
If you are a conservative trader and want to be extra sure about the direction, then you can wait for the price to break the 182 EUR resistance first before buying. If not, the breakout from the triangle should be fine by itself. Nevertheless, the positive sentiment is ON and patience has been rewarded again.