Every week brings us more and more red days on stocks. Prices simply cannot go any higher and the market is bending its knees from its own weight. Its hard to find sector, which is resisting to this, even banks are going lower. In today's analysis we will take a look at Goldman Sachs, one of the most famous financial institution in the world.
On the chart of Goldman Sachs, we can see a few negative factors, so in this case, our view is bearish. The most important point here is that the price broke crucial dynamic support on the lower black line. You may call it also a neckline of the head and shoulders pattern or the lower line of the wedge. Whatever you will name it, the outcome of the breakout will be still the same – further slide…most probably.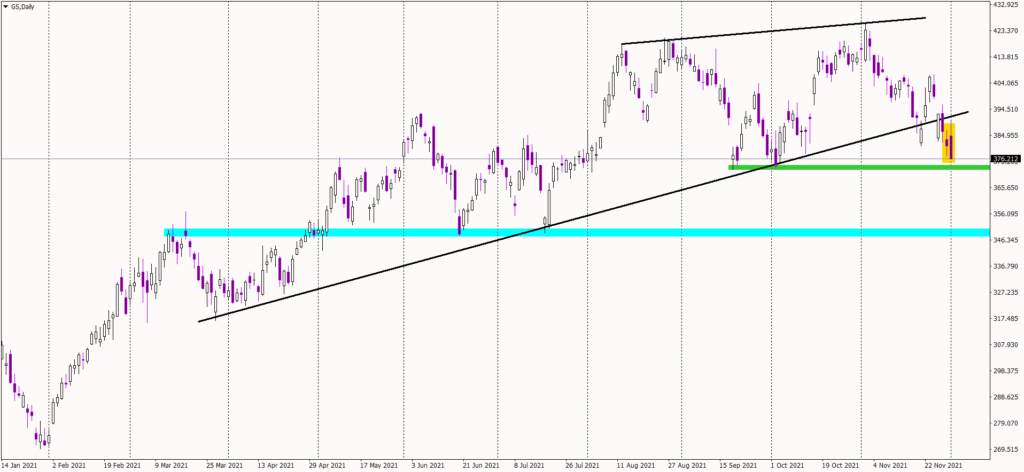 In addition to this, we have a candlestick pattern here. Those two candles marked with an orange color are a bearish engulfing, which as you may expect, is bearish.
Where is the target? First natural target can be the low from September and October (green color) but actually we are almost there, so with the continuation of the negative sentiment globally, the price may even aim another target around 350 USD marked with the blue color. This looks like a great support, which makes it in the same time an aim for the sellers.
As long as the price stays below the lower black line, the sentiment is negative and buying does not seem like a good option.