We'll start the new week with a short update on Lufthansa.
We'd written about Lufthansa on June 25th and back then we were bearish. Spoiler alert: We were right and nothing's changed since then. However, we do owe you a small update.
In the previous piece article, we'd said:
"Taking all this into account, it's really hard to find anything positive on this chart. Sellers have a great technical situation which is promoting a further slide south. The negative sentiment stays with us, as long as the price is below the combination of the red and blue line."
It's not that after this analysis the price collapsed. Yes, the next three consecutive days were bearish but then the price reversed, then dropped again and reversed and dropped again and here we are.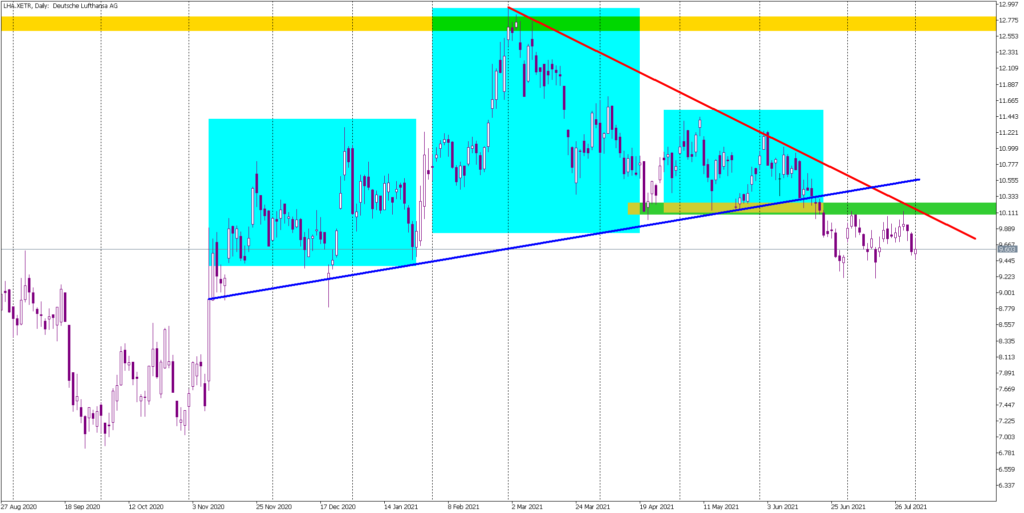 The reason why we want to update the situation on Lufthansa is that recently, the price bounced from the combination of important horizontal and dynamic resistances. The horizontal one is the green area slightly above the 10 EUR and the dynamic one is the downtrend line connecting recent crucial lower tops.
As long as the price stays below those two, the sentiment is definitely negative and we have no grounds to change our original outlook on this instrument.