Today, we're coming back to Porsche, which we previously analysed on September 27th. Back then we were bullish saying:
"After a false breakout, you usually can experience a strong movement in the opposite direction and that's what's happening now. The price is climbing up and today it's breaking the red down trendline, which we had mentioned in the previous analysis. This upswing and the false breakout from before are giving us a legitimate buy signal."
Our update on this instrument isn't because we changed our view, but because we've spotted an even better buying occasion. Today, we're higher than we were at the end of September, but this rise hasn't happened overnight. We had to wait a bit, and in that time the price continued its sideways movement, creating a right shoulder iH&S formation. That's actually the key to today's analysis.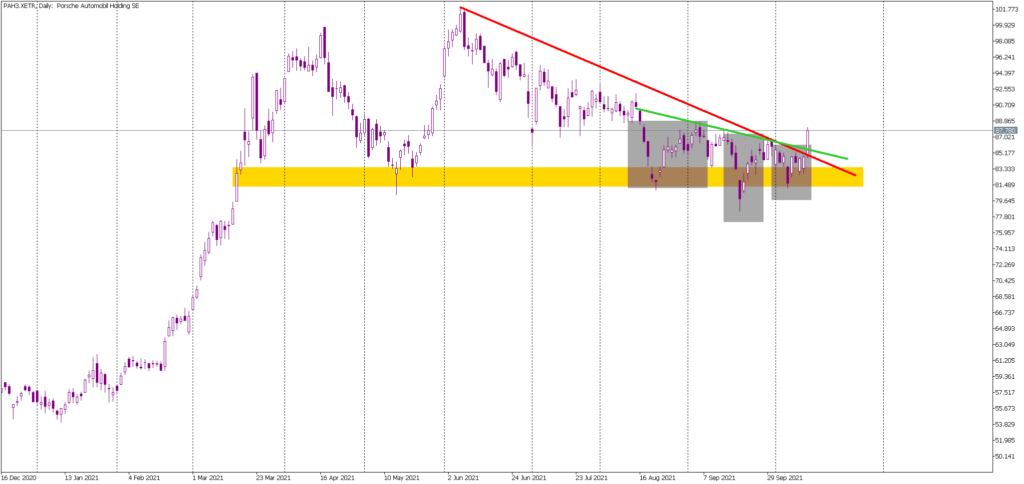 As you can see on the chart, the price has created an inverse head and shoulders pattern (grey) and today it's breaking its neckline (green). In addition, we're definitely jumping above the mid-term dynamic resistance (red).
To sum up. Long-term horizontal support (yellow) is defended and major dynamic resistance is broken. The price shows a nice bullish momentum, so our view on this instrument is positive!