This week we'll start with the analysis of Qualcomm, which we already mentioned on our portal on the 15th of June. Back then, the price was at around 135 USD and we were bullish, stating our optimism by saying:
"A breakout to the upside actually happened yesterday, so it's still as fresh as this morning's freshly squeezed orange juice. The price closed the day above the upper line of the wedge, which in theory, brings us a legitimate buy signal."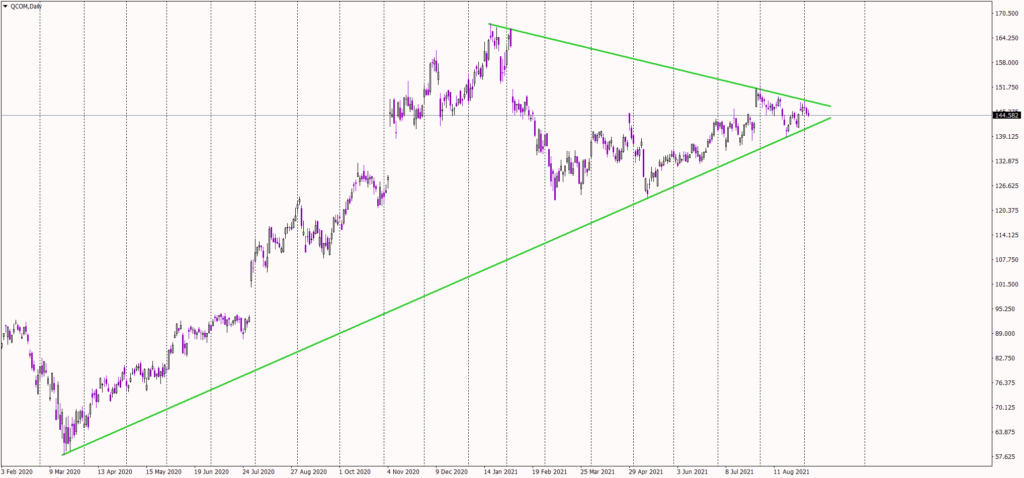 Another great call from our team. The price indeed climbed higher, reaching the 150 USD mark at the end of July. Since that, we have a sideways movement with the price trading around 145 for the past few weeks.
The reason, why we are talking about this instrument today is that we can see a very reliable trading pattern on the chart – symmetric triangle (green) – which is coming to an end and that should soon open new ways.
If the price closes the day above the upper line, we will have a buy signal. On the other hand, the price closing below the lower line, will give us a signal to sell. As long as the price stays inside the triangle, we need to be patient, after all in trading patience is very often rewarded.