Wednesday brings us an analysis of Lockheed Martin, the well-known American arms, defense, aerospace and technology corporation. LMT was a hot stock at the end of February when Russia attacked Ukraine. That's normal. Defense sector companies usually rise in times of war and it wasn't any different this time around.
Surprisingly, the initial rise was almost entirely reversed. Don't get me wrong, LMT is still one of the best stocks out there, outperforming almost all its peers, which are deep in a down trend. But I feel that the price could have been a bit higher. Why?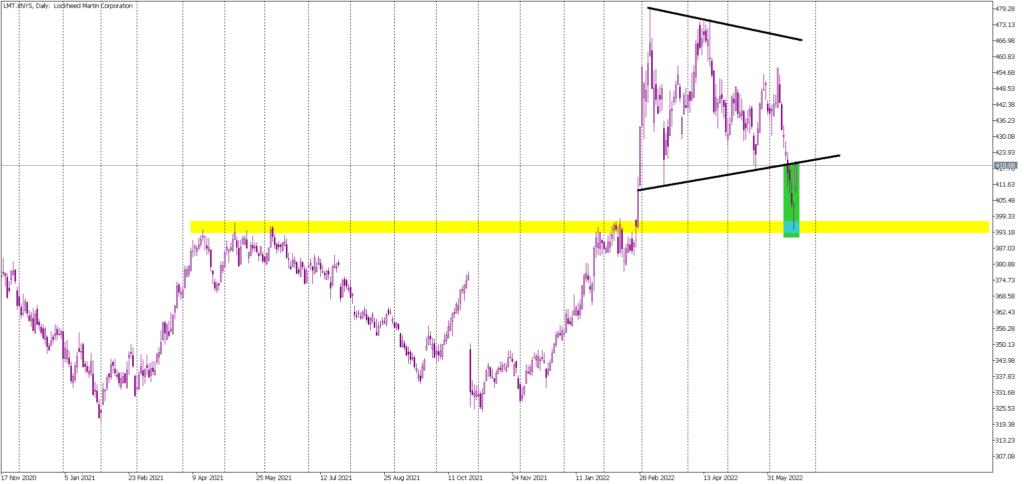 Well, the Russian attack showed that conventional war is closer than we think and that this war may soon escalate to other countries. Russia is constantly threatening countries with territorial claims, so many of those countries are increasing their military spending. A huge chunk of that money should flow to Lockheed Martin, which is the producer of various world-famous weapons like F-35, HIMARS or Javelin.
Most recently, LMT bounced off a crucial horizontal support on the 395 USD (yellow). Yesterday, the price recorded a very nice session, climbing to the symmetric triangle pattern (black). The price coming back inside this pattern should be a great buy signal and, in my opinion, the chances for that happening are quite big.
The positive sentiment will be cancelled when the price breaks the yellow support, but as of now, that scenario seems less likely.