It looks like another bearish correction on stocks ended faster than it even started. I guess people are generally not surprised. If anyone is then they've probably been sleeping under a rock for the last several months. Either way, buyers are back, and so are we, hunting for proper buy signals. In this piece, we'll talk about Autodesk and it's not going to be our first time. We've already written about Autodesk in a previous analysis on June 29th, when the price was breaking to the upside from the big symmetric triangle pattern. Back on that day, we said:
"With time, the price was making small drops and upswings. Every contact with the upper or lower line of the triangle ended with a reversal. Until recently as the price decided to break the upper line of the triangle, giving us a proper, long-term buy signal. That's it. As long as the price stays above the upper line of the triangle, the sentiment is positive."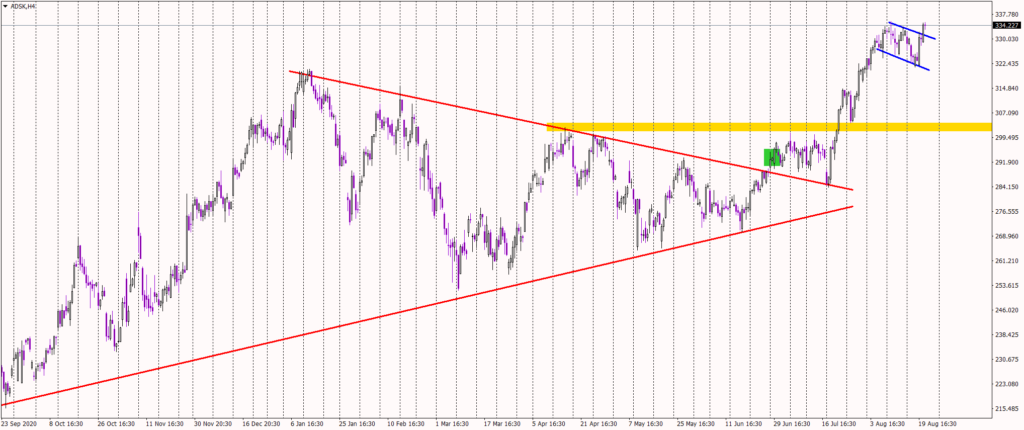 Let's see how that worked out shall we? The time those words were published is labeled with a green area on the chart, right after the bullish breakout from the triangle. The first few weeks were not encouraging, the price was largely moving sideways. Eventually, at the end of July, we experienced a lift-off, which we were anticipating. The price went from around 290 USD to 330 USD. Impressive.
Currently, we may be witnessing another fresh buy signal. This idea is coming from the fact that the price broke the upper line of a small flag (blue lines). This flag was the most recent bearish correction and it looks like it's just ended. Our sentiment for Autodesk is positive.