The last stock we'll talk about this week is Ferrari. Ferrari (RACE) is traded on the Stock Exchange in Milan, Italy. You can access it through our MT5 platform and our new Alpha Account.
I don't think that there are a lot of people that don't know what Ferrari is. You don't have to own one to know the brand. Although those cars are super fast, the recent price movements on the chart are not! Ferrari is currently in the sideways consolidation movement, where the volatility decreases with every month.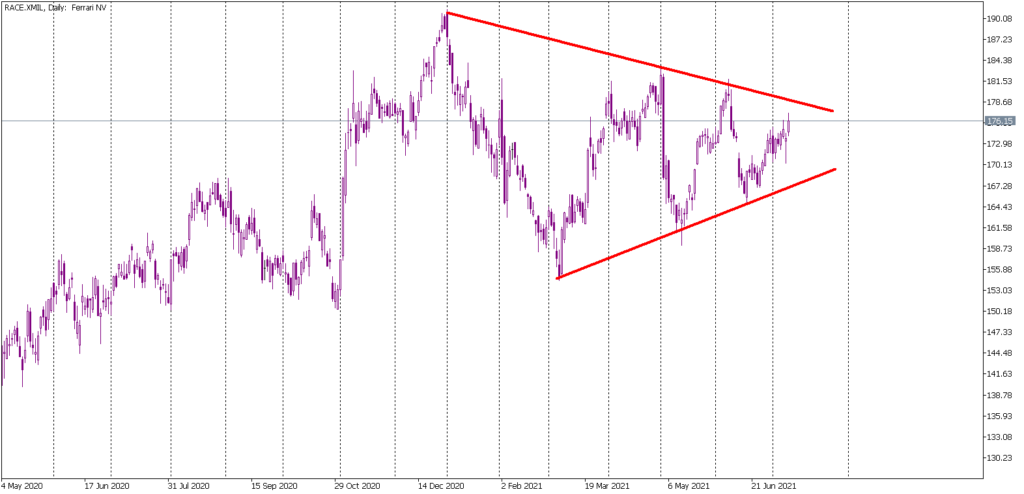 RACE is inside of the symmetric triangle pattern (red lines), which has been present on the chart since the beginning of the year. The good thing is that we're coming to an end of this formation as those two lines are coming closer to each other every day. Eventually we need to see a breakout and this breakout should show us the direction for the next few weeks.
To sum up, we do have a triangle pattern here and we're still waiting for a breakout. The price going above the upper line of the triangle will give us a signal to buy; and the price closing a day below the lower line of this formation will give us a signal to sell. At this point it is pretty pointless to try to guess which direction the price will go. Price action traders are patiently waiting for a price that will show them the direction. So for now, we wait.