The stock of the day on this Tuesday is Adidas, a stock you can trade on the exchange in Frankfurt. We've mentioned Adidas here before, specifically on July 20th, when the company's price was experiencing a losing streak. Despite a few bearish days in a row, we were bullish:
"And here we are, Adidas is currently testing the 303 EUR support but this time, from the top. As long as we stay above, the sentiment is positive. A bounce here in the shape of a hammer or a bullish engulfing pattern would be a great occasion to buy."
That was another great call (if we do say so ourselves). The price bounced from 303 EUR confirming the line as a crucial support. It was not a V-shape single reversal though. We needed two tests of that area in order to climb significantly higher. The second bottom was confirmed 3 days ago and since then, we do have a real bullish bonanza here!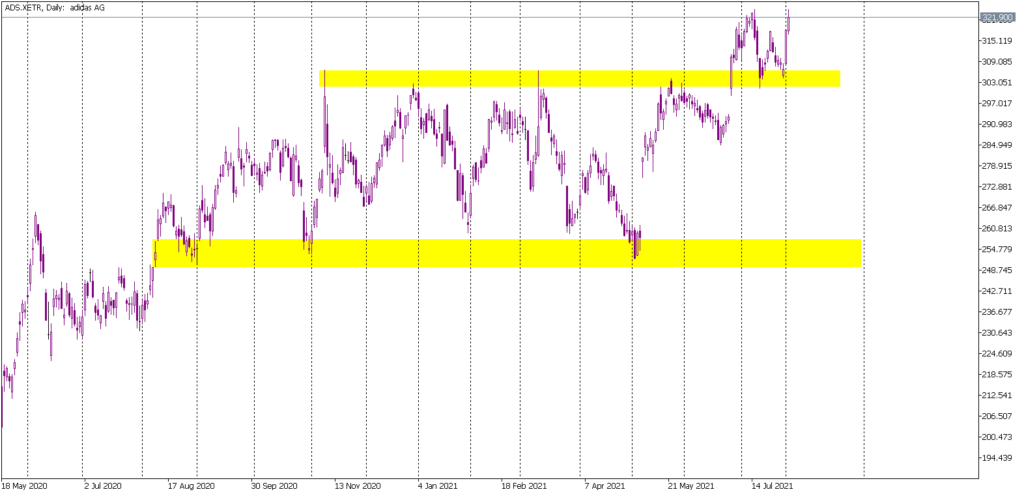 Double bottom bounce from a crucial support is a strong technical indicator that the sentiment is bullish. We stay positive here, as long as the price stays above the 303 EUR support. As for now, we don't see a big chance for a comeback below that area.