Thursday's session on stocks ended with a small decline. This negative sentiment spilled onto the Asian session and the beginning of the European one. With this vibe around, let's look for a nice bearish opportunity on stocks.
The best time to sell a stock is when it's in a down trend or on a strong resistance. In this analysis, we're looking at a stock that checks the box on the second option. That stock is Johnson & Johnson.
The formation you can see on the chart here is an ascending triangle, which is generally bullish. The problem for buyers is that we're currently testing its horizontal resistance and the price can't go through.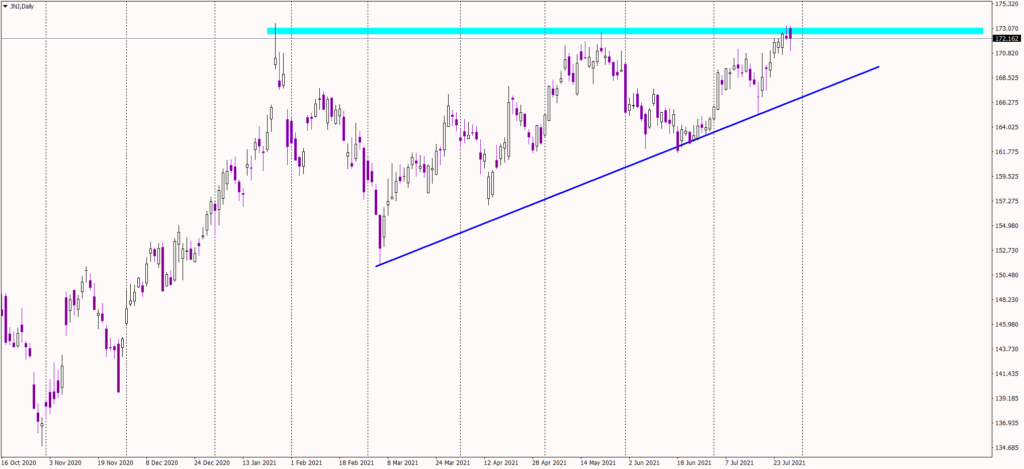 In two days, the price created a pessimistic shooting star on the daily chart and yesterday, a candle with a big bearish body. The price was unable to close a day above the resistance of 173 USD.
All that creates an interesting selling opportunity. Interesting because it has an awesome risk to reward ratio. The stop-loss can be relatively close as we know that the price going above the 173 USD would mean a cancelation of the negative sentiment, a proper buy signal. The target for the short trade would be on the lower line of the triangle. Who knows, with a bigger correction on stocks, maybe we can go even lower than that?
Anyway, as long as we stay below the 173 USD, sellers can try their chance. The price going above will be a NO NO for any bears and would mean a proper, long-term buy signal.