You've probably heard the news about Tesla, right? If not, here's your update. Hertz is about to buy 100k cars from Tesla and apparently without any discount. After this news broke, Tesla's stock price jumped 12% higher, significantly increasing the market cap and Elon Musk's wealth in general. We won't focus on Tesla though. Today, we'll focus on Porsche because the positive sentiment generated from Tesla's news has spilt over to the whole automotive sector (also because did mention Tesla quite recently and of course at the time we were bullish).
So coming back to Porsche. The last time, we discussed this German carmaker was on October 13th and back then, we were bullish spotting a nice inverse head and shoulders pattern on the chart:
"As you can see on the chart, the price has created an inverse head and shoulders pattern (grey) and today it's breaking its neckline (green). In addition, we're definitely jumping above the mid-term dynamic resistance (red). To sum up, the long-term horizontal support (yellow) is defended and the major dynamic resistance is broken. The price shows a nice bullish momentum, so our view on this instrument is positive!"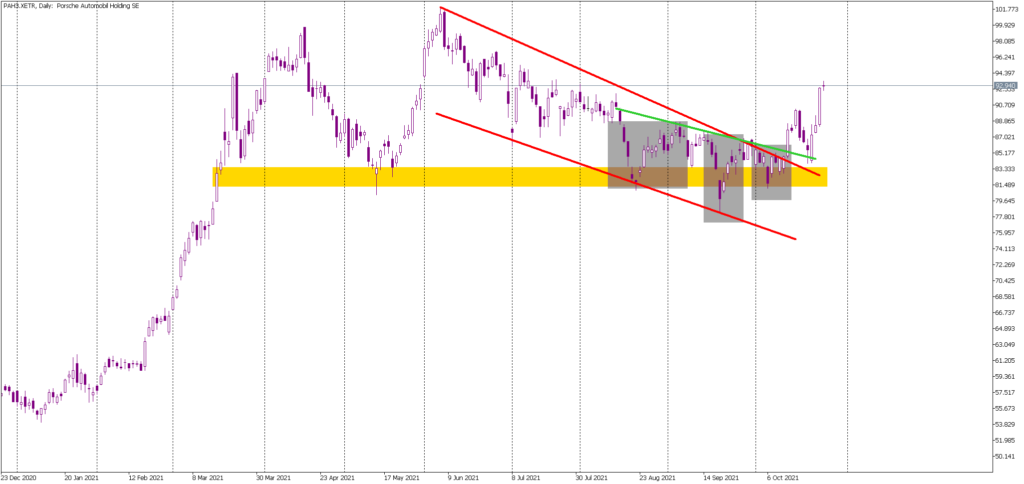 Before the price jumped higher, we first experienced a small bearish correction, which tested the broken neckline as the closest support. Yesterday was positive for the buyers, as the price jumped creating the bullish engulfing pattern. The last three days have been bullish, with the price being at the highest levels since the beginning of August. Perspective is bright and the bullish sentiment is still ON.