Here we are, a day after the largely anticipated press conference from Federal Reserve Chair Jerome Powell. The meeting can be described in a nutshell as Hawkish. In theory that should be negative for stocks, but you know, after years of pumping, we don't have to obey any rules right now. Today, I will show you the setup on Sainsbury that's listed on the stock exchange in London.
The situation on Sainsbury is bullish but doesn't have a clear buy signal yet. Let me explain; the price ended one bullish pattern and is very close to ending the second one, we just need one last step. The first pattern that I am talking about is a wedge (blue). The wedge was limiting a bearish correction and it ended it on January 12th.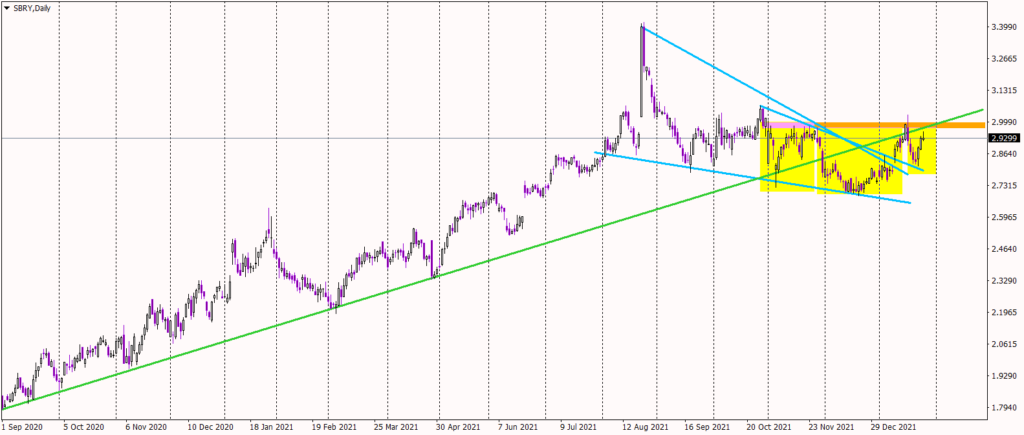 The second pattern is an inverse head and shoulders (yellow), which is ending as we speak. The price currently ends the right shoulder and is aiming for the neckline (orange). In the same place, apart from the neckline, we do have an uptrend line (green), so the price needs to come back above those two in order to brings us a proper, long-term buy signal. Once buyers succeed, they'll have a really strong cause to support their optimism.
A breakout to the upside can but does not have to happen, so do not be too optimistic yet. Waiting for a legitimate breakout is usually the best practice to apply in such situations.