This Thursday, we will analyze Qualcomm, which we previously mentioned on the 6th of September and back then, we still had no clear view about its future direction. Why did we write the analysis then? Well, because the price was inside a symmetric triangle pattern, waiting for a breakout. We concluded that situation as follows:
"If the price closes the day above the upper line, we will have a buy signal. On the other hand, the price closing below the lower line, will give us a signal to sell. As long as the price stays inside the triangle, we need to be patient, after all in trading patience is very often rewarded."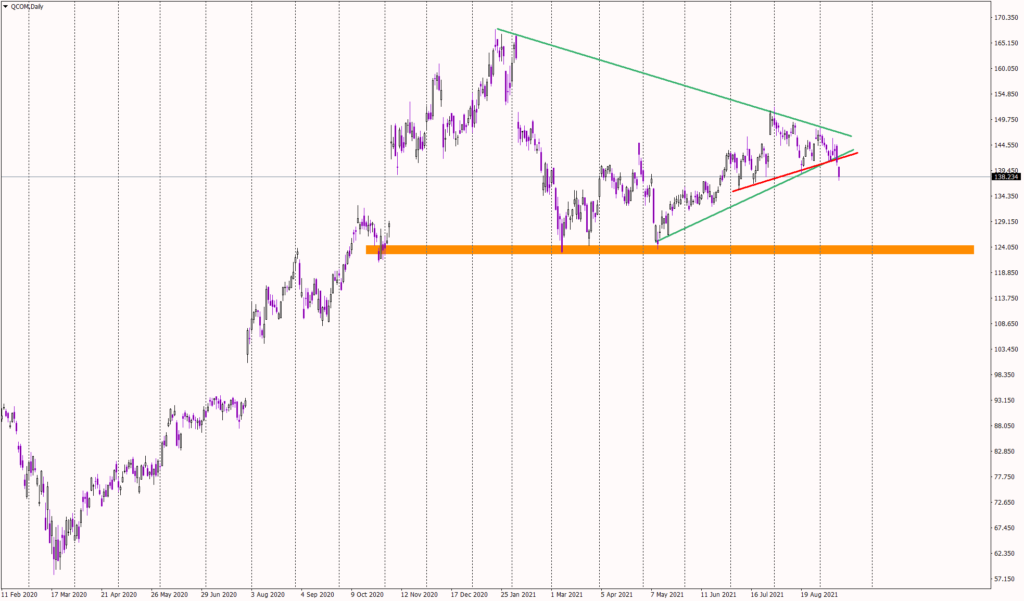 As you may have expected, the price got to the breakout and that's what we'll analyze today. So, the breakout happened to the downside, giving us a mid-term sell signal. It's interesting because yesterday's US session was actually very positive. Nevertheless, Qualcomm went the other way. After the breakout to the downside, we do have one target now and it is the orange horizontal support.
Negative sentiment will be cancelled, when the price will come back up above the red and lower green line but chances for that are rather limited.